Tuuri & Mikk | DIY Hipster Wedding in Muhu, Estonia
The wedding of Mikk and Tuuri was the most creative wedding I have ever attended. I guess there was no other way when 250 very creative people come together to an Estonian island Muhu to celebrate the beginning of a beautiful marriage of two talented singers.
The ceremony was held in Muhu Katariina church and the party continued in the farm of bride's parents in Muhu.
With the help of friends and family the venue was creatively decorated using mostly original DIY decorations. Tuuri's sister is a designer and she made super-stylish wedding clothes for the groom, bridesmaids and even the wedding dress for the bride.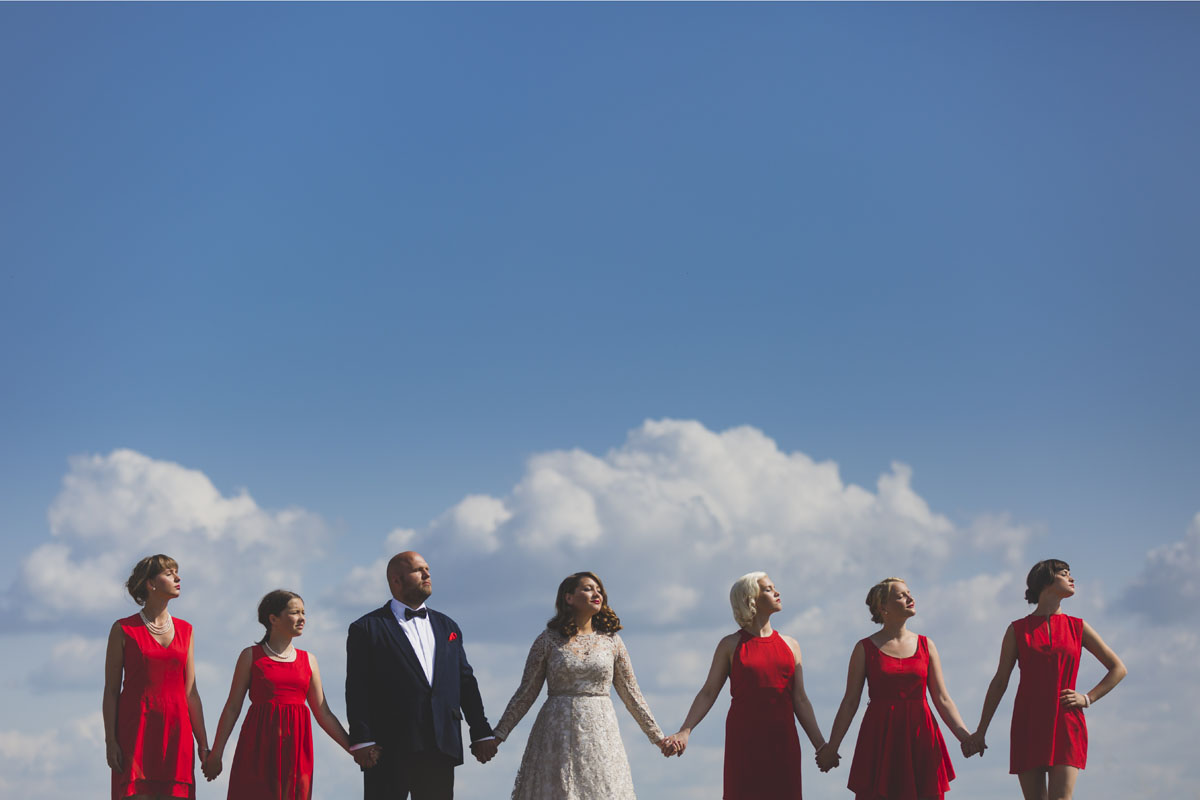 Mikk and Tuuri said their firm "yes" in the church of Katariina of Muhu. After that everybody drove to Tuuri's parents country home which is located near the sea on Muhu. The wedding car driver was of course bride's granny with her special yellow costume. The guests had to bring their own plates for the wedding.
During the great feast the bride and groom were surprised with a puppet-play. The puppets were specially designed for the wedding to resemble the bride and groom. After that the whole crowd stood up and went to the seaside to watch a dance show with professional choreography. Also a football game was organized between the bride's team and the groom's team. It was a full game - there was a judge, commentator, football shirts, naked men who were illegally running on the field and security personnel who were trying to take them down.
People were dancing and having fun until midnight. Small crab shaped lights were shining at the dark blue sky when Mikk and Tuuri were enjoying their first evening together in marriage.
Wedding Blog — Wedding Photographer Valdur Rosenvald
Weddings
Valdur Rosenvald
Rosenvald Photography, estonia wedding photographer, wedding photographer in Estonia, estonian wedding photographer, Tallinn wedding photographer, wedding photographer in Tallinn, best wedding photographer, beach wedding, creative wedding, backyard wedding, 2014, DIY wedding, hippie wedding, Muhu wedding, Mikk Dede, Tuuri Dede, portfolio, old
Comment